OFWpay™
Take the stress out of payments and reimbursements.
The difference OFWpay™ can make.
Reimbursement requests and payments for shared parenting expenses can be one of the biggest sources of conflict between co-parents. OFWpay™ removes all ambiguity and reduces tension by providing parents with a secure and easy system for sending and receiving funds. All transfers are thoroughly documented within OurFamilyWizard® and are impervious to manipulation.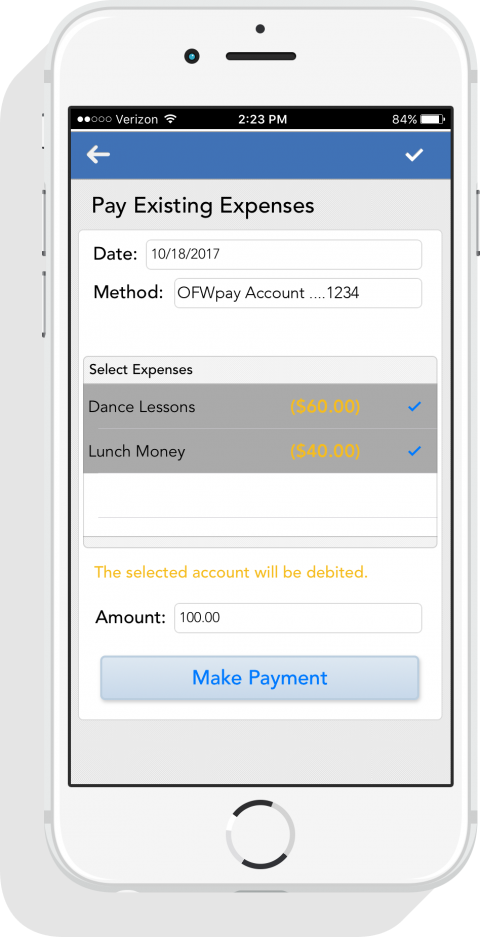 Why use OFWpay™?
Make secure electronic transfers directly to your co-parent.
Maintain accurate documentation of when funds were sent and successfully transferred.
Download and print payment receipts for every transaction.
No hidden fees and no sharing of your personal banking information with your co-parent.
Manage expenses in real time using OFWpay on your OFW mobile app.
No more sending checks in the mail and wondering if your money will make it to your co-parent safely. 
Get a clear picture of child-related spending.
Having a real understanding of child-related spending contributes to promoting financial stability in both parents' homes. It also contributes to eliminating confusion over expenses that can quickly lead to conflict. OFWpay™ creates a shared space for you to track expenses and facilitate payments, making it easier to see how money is being spent on your children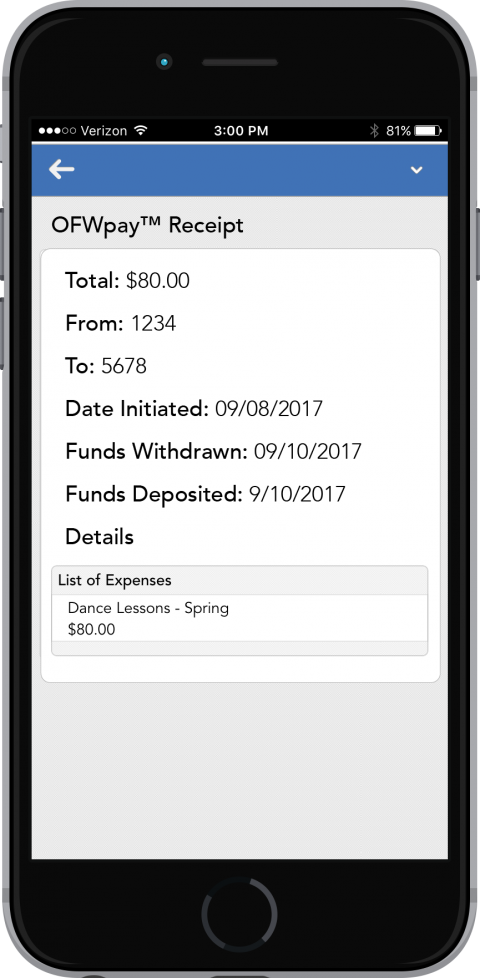 No waiting to manage funds.
The OFW® mobile app lets you manage your expense and reimbursements in real time. You no longer have to wait to get home to calculate expenses and organize receipts. If you want to request reimbursement for a doctor's visit co-pay, just snap a photo of the co-pay receipt and upload it directly to your OurFamilyWizard® Expense Log. Your co-parent can access your request and the receipt immediately, and initiate payment to you via OFWpay™ with just the click of a button. 
> Download the OFW® mobile app for iPhone®
> Download the OFW® mobile app for Android
What do I need to get started?
A current OurFamilyWizard® parent subscription
A valid checking account in the USA
Before you're able to use your OFWpay™ account, your co-parent will need to sign-up for OFWpay™ as well. 
---
The Fine Print:
Transactions are processed by our partner ReliaFund.  ReliaFund was founded in February of 2001 and serves businesses as diverse as finance and insurance companies that process thousands of payments each month to family childcare businesses with as few as two payments a week.
Click here to learn more about ReliaFund
Transaction Amounts & Fees:
Transactions between 0 - $100: $2.50 Fee
Transactions between $101.00 - $999: $5.00 Fee
Transactions greater than $1000: $7.50 Fee
One-time OFWpay enrollment: $5.00 Fee
Fees for failed transactions:
Returns/NOC: $25.00 minimum fee
Reversals: $25.00 minimum fee
NSF Own Account: $25.00 minimum fee