OFWpay™ via the OFW Mobile Apps
With OFWpay™, parents can process and track reimbursements, all while maintaining clear and consistent records for every payment on shared parenting expenses. Use this tutorial to help you get started with OFWpay™ on the mobile app. 
In this tutorial:
OFWpay™ FAQ
Learn the basics of how to sign-up and use OFWpay™ with these frequently asked questions.
Why am I not seeing the option to use my OFWpay™ account?
First, check the status of your application. If your application is pending or suspended, you will not have the option to use OFWpay™ to submit payments to your co-parent. Contact customer support with any questions about suspended accounts.

Second, if your co-parent does not have an active OFWpay™ account, you will not be able to use OFWpay™ to transfer funds to them. Each parent has to have an active OFWpay™ account in order to send and receive reimbursements.
Why wasn't my payment successful?
There can be various reasons why a payment failed to process, such as reaching your weekly transfer limit. For more details about a certain transaction, please contact our customer support team.
What are 'weekly limits' on OFWpay™ accounts?
Every OFWpay™ account begins with a $1,000 weekly transfer limit. Within any period of 5 business days, a parent can only send $1,000 to their co-parent.
Does the parent receiving funds get charged with transaction fees?
No. Only the parent sending the payment will be charged for the fees associated with OFWpay™ transactions. A transaction fee is charged on top of the total that is being sent to the recipient.

Transaction fees are as follows: 

Transactions between $0 - $100: $2.50 Fee
Transactions between $101.00 - $999: $5.00 Fee
Transactions between $1000 - $2499: $7.50 Fee
Transactions greater than $2500: $10.00 Fee
Signing up for OFWpay™
To create an OFWpay™ account, you must wait 30 days after signing up for OurFamilyWizard. You'll also need a valid U.S. checking or savings account in order to apply.
From the app's main navigation menu, tap Expenses. Then, select OFWpay.
Tap the + in the bottom-right corner of your screen. Once in the Add Item menu, tap OFWpay™ Account.
Complete all required fields in the OFWpay™ application. If any piece of information provided in the application does not match your records, the application will be rejected. You must also review and agree to each of the different pieces of information under the "Terms of Service" section.
Tap the checkmark at the top-right corner of the screen to submit your application. You will be notified if your account is approved or if there are any issues with your application via an Action Item alert in your OFW Message Board.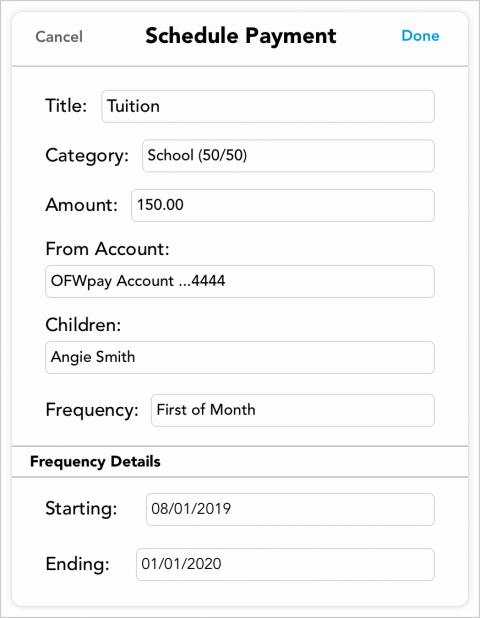 Scheduling Single or Repeating Payments with OFWpay™
With OFWpay™, parents have the option of scheduling a one-time payment or creating a repeating payment for a recurring expense. 
From the app's main navigation menu, tap Expenses. 
Tap the + in the bottom-right corner of your screen. Select Scheduled Payment.
Provide the expense details:

Title: This is how the expense will be labeled in the Expense Register.
Category: The category to which the expense is assigned determines the percentage split between parents. 
Amount: Provide the total for the expense, including any portion for which your co-parent is responsible. The category you selected will split the expense total for you.
From Account: Select from which OFWpay™ account you'd like to process the payment.
Children: Set for which children the expense was incurred.

Select a frequency for the payment. 

Once: Select this option if the payment is for a single expense.
Repeating: Parents have the option of creating a payment that repeats on a Specific Day of Month, First of Month, Last of Month, Weekly, or Yearly. 

Tap Done in the top-right corner of the screen to schedule your payment.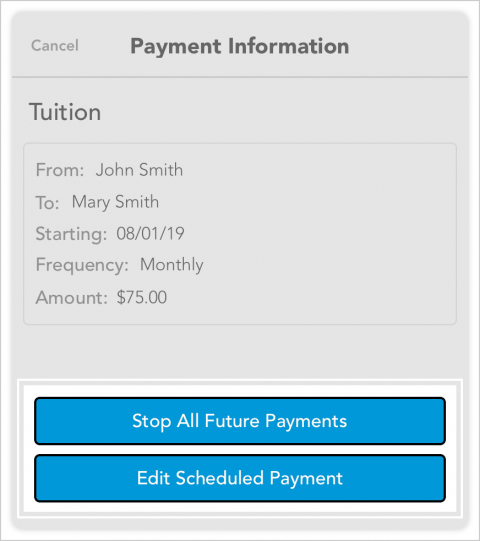 Editing or Stopping a Scheduled Payment
You can edit or stop future instances of a scheduled payment.
From the app's main navigation menu, tap Expenses. 
Next, tap Scheduled Payments.
Under the Active tab, select the scheduled payment in question.
Select one of two options:

Tap Edit Scheduled Payment to make updates to any future instances of this payment. Tap Save to save your changes.
Tap Stop All Future Payments to stop any future instances of this payment. 
Related articles