Tough Economy brings more Pro Se litigants.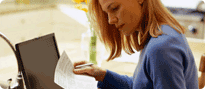 The family courts continue to see a large increase in the number of litigants who appear before them "Pro Se" or without legal representation.  There are no national numbers tracking this phenomena, but many independent workgroups and investigations have yielded some startling numbers.  The numbers sighted below are a few years years old and do not take into account the effect of the decent downturn in the economy.  We have heard from some of the professionals that we work with, that the tough economy has only made this problem worse.
Information taken from the NCSC website:
According to the Committee on Resources for Self-Represented Parties. Strategic Planning Initiative. Report to the Utah Judicial Council, July 25, 2006:
For divorce cases, 49% of petitioners and 81% of respondents are self-represented
According to the California Statewide Action Plan for Self-represented Litigants. California Judicial Council Task Force on Self Represented Litigants (2004):
For family law cases: 67% of petitioners at filing (72% for largest counties) are self-represented and 80% of petitioners at disposition for dissolution cases are self-represented.
According to Anne Zimmerman. "Going Pro Se." Wisconsin Lawyer (December 2000). This article provides several statistics and quotes the 1991 American Bar Association study of family law cases in Maricopa County, Arizona:
In 88% of divorce cases in Maricopa County Superior court, at least one litigant was self –represented. 
According to the Wisconsin Pro Se Task Force Report. The Wisconsin Pro Se Working Group. A Committee of the Office of Chief Justice of the Wisconsin Supreme Court (December 2000):
In some counties, as many as 70% of family cases now involve litigants who represent themselves in court.
According to Access to Justice: Pro Se Litigation in Indiana (Fall 2005). From the American Judicature Society website:
Slightly over 88% of judges surveyed believed that the extent to which litigants committed procedural errors was a problem for pro se litigation.
The question becomes how can you have a fair and equitable result if one of the parties doesn't understand the legal process.  How can courts cope with an influx of cases with litigants without representation?  Whose responsibility is it to educate the unrepresented litigants?
Many counties, bar associations and other legal groups have setup formal organizations to deal with this very issue.  
Selfhelpsupport.org is a national clearinghouse for information related to self-representation. This (free) membership site provides links to over 1500 related publications, reports, or websites.