Access our full set of features through the OurFamilyWizard website
Messaging Basics
In this tutorial:
---
Sending and replying to messages
Messages can be sent between co-parents, children, third-parties, and connected professionals. To send a message,
Select Messages from the app menu

New Messages: Select 'Compose Message' from the Messages submenu
Replies: Go to your inbox, find the message to which you'd like to reply, and tap the Reply or Reply All arrows at the bottom of the screen. 

Select to whom you'd like to send the message, provide a subject, and type your message. 
Tap Send to send your message or tap the back arrow to see the option to save the message as a draft. 
---
Attaching a picture to a message
To attach photos to messages on the mobile app, you'll need to first give the app permission to access your photos. You'll find the option to update those permissions within your device's settings menu. 
To attach a picture while composing a message,
Tap the paperclip icon in the bottom left of your screen. 
Select the picture you'd like to send from your phone's storage. 
If you wish to remove the attachment before sending your message, tap the paper clip icon and tap Remove Attachment.
---
First-viewed timestamps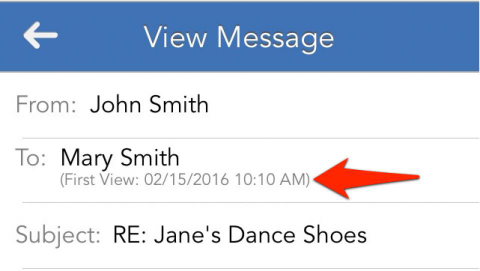 You can always tell when your co-parent has first viewed a message that you have sent to them. To tell if a message has been viewed,
Select Messages from the app menu. 
In the messages submenu, tap Sent Messages.
Locate the message in question. Tap to view the message in full detail.

In the "To" field, you will see the name(s) of the recipient(s) to your message. Beneath their name will be their "First Viewed" time.

If your message has been viewed, the date and time that the message was first viewed will be listed.
If your message has not been viewed, it will say "Never". It will remain at this status until the time that the message is viewed.  
---
Related articles