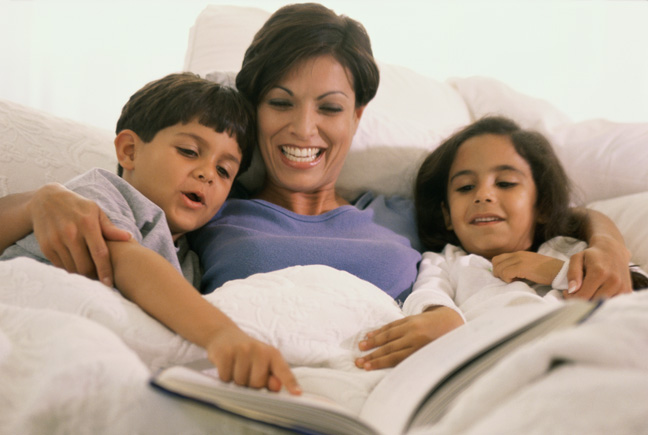 After divorce or separation, happiness may seem like a distant goal.  At first, it is very difficult for parents and children alike to cope with the new layout of the family.  Many things begin to change, from family holidays to family vocabulary.  Common words and phrases change, like "house" becomes "homes;" and "family dinner" becomes "dinner with (fill in the parent)."   As these changes take place, parents must find new ways to communicate and work together to raise their children as one family unit separated between two happy homes. 
Keeping two happy homes is not always easy, though it should not be seen as a finale for your family.   Instead, it should be seen as the beginning of a new chapter for both parents and children, and there are things that parents can do to help make the story of this chapter happier for everyone.  For starters, parents must create a new relationship with one another.  Regardless of the emotions between you and your co-parent, you will need to find some way to come together as partners in parenting.  Achieving two happy homes begins with the parents as leaders setting an example for their children on how to behave and deal with change. 
As parents begin their new relationship, having extended family and friends nearby to support both you and your children will aid in this transition.  Having positive outside forces surrounding your two happy homes helps encourage an upbeat atmosphere within each home.  Having trusted individuals around as confidants whom you can talk to and trust with your feelings will help you to process your emotions instead of keeping them inside.  Also, let these people know how much you appreciate their support and compassion during this time.  Keeping a positive tone in your correspondence with those around you will hopefully leak positivity into the foundation of your two happy homes. 
While this kind of change can be scary and unwelcome at first, things tend evolve into something more comfortable and accepted as time moves on.   Keeping two happy homes functioning separately but jointly takes effort on the part of every family member, especially from the parents.   When parents need to transfer important information between homes, its is best to ensure that your information is secure and organized by using an online tool designed for family-related matters like OurFamilyWizard.com.  OurFamilyWizard creates an online family forum for parents to use as a central location for all of their family-related correspondence.  When information is toggling between two homes, it's easy for things to get lost in the shuffle.  OurFamilyWizard keeps it all in one place that can be accessed anytime from your computer, smart phone, and tablet.  With the support of your close and extended family, friends and the tools available on OurFamilyWizard, keeping two happy homes may be easier to manage.