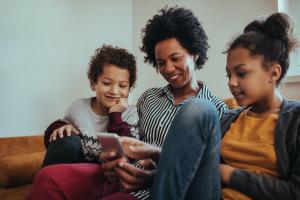 OurFamilyWizard vs Emails and Texts: What's the Difference?
OurFamilyWizard vs Emails and Texts: What's the Difference?
It seems simplest to just communicate with your co-parent through email and text. But for many co-parents, using a messaging tool designed for co-parenting, like OurFamilyWizard, saves them time and money—and provides peace of mind. 
We've identified seven factors to consider when you're deciding how you'll communicate. Does your communication tool or app fully meet your co-parenting needs? 
Use the links below to investigate the questions most important to you. (Or, if you want to just cut to the chase: Which tool is best for you?)
---
Which tool is best for you? 
If your co-parenting experience is relatively simple and straightforward, texting and emailing might be the right choice for you.  
But you might want to consider an alternative if you fit one of these categories: 
Your situation is complex. 
You're experiencing any level of conflict. 
You need to present any documentation in court. 
If one or more of these descriptions rings true, then OurFamilyWizard will meet your needs best. It will simplify your co-parenting life and cut down on conflict and stress. 
 

If you need help deciding, keep reading for a clear breakdown of each angle.  
---
#1: Was the app built for co-parents?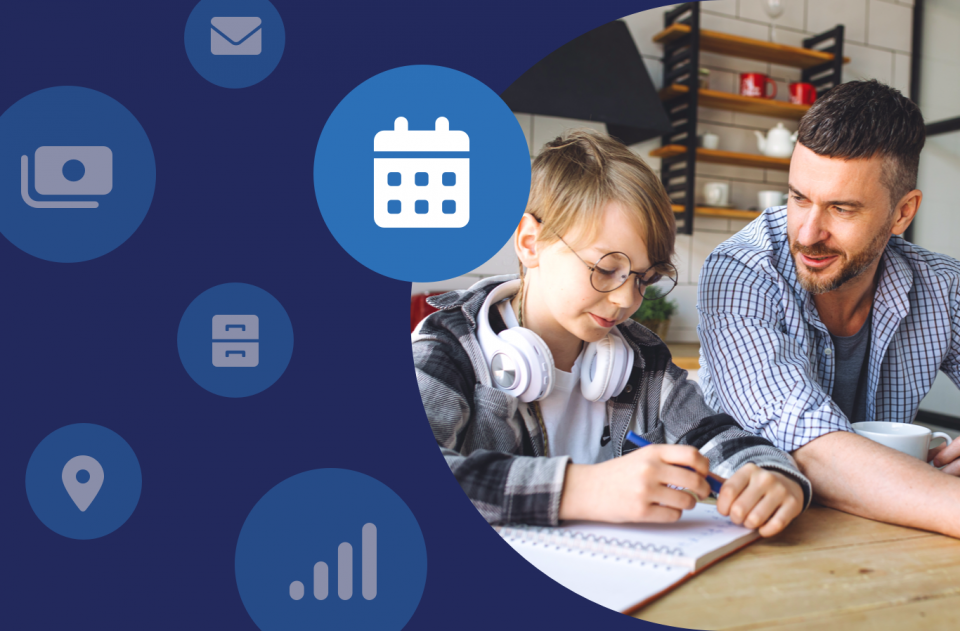 Email and text are general tools that work on a basic level for almost any communication purpose. But if a tool is designed to fit right into co-parents' lives, it relieves their stress and saves them time.
 
OurFamilyWizard is designed for co-parenting 
OurFamilyWizard's main features handle different kinds of information. The app includes: 
Messaging to communicate with your co-parent, other family members, and your family law professionals. 
A Calendar to track shared parenting time, holidays, and events.  
Expenses to record child-related spending and make payments. 
A Journal to create GPS location tags, record observations, and share memories.  
An Info Bank to upload important files and information, like medical insurance cards and shoe sizes.  
Unique to the app, ToneMeter™ detects wording that's likely to spark a negative response. It's like an emotional spellcheck that encourages co-parents to speak to each other politely.
Plus, each feature keeps co-parents accountable. Messages, for example, always record a first-viewed timestamp, so you know when your message has been opened.   
 
Email and texting are generic messaging tools 
With standard email and text messaging, you can do two or three things: 
Send and receive messages. 
Send and receive attachments. 
Request read receipts—only with some tools.   
That's about it. You'll probably have to use other tools to share and track other details, like schedule updates or expense reimbursements. Plus, email and text don't prompt the conversation in a more positive direction.   

Which works best for you? 
Email and texting might be enough if you just want to send messages. If you're looking for a holistic solution, OurFamilyWizard is designed for co-parents. We know what co-parents need to talk about, and the app will help you keep it organized.  
"All of the features are fantastic. Secure messaging with time stamps and read receipts are better than traditional email."
     OurFamilyWizard App Review
---
#2: Is your information secure?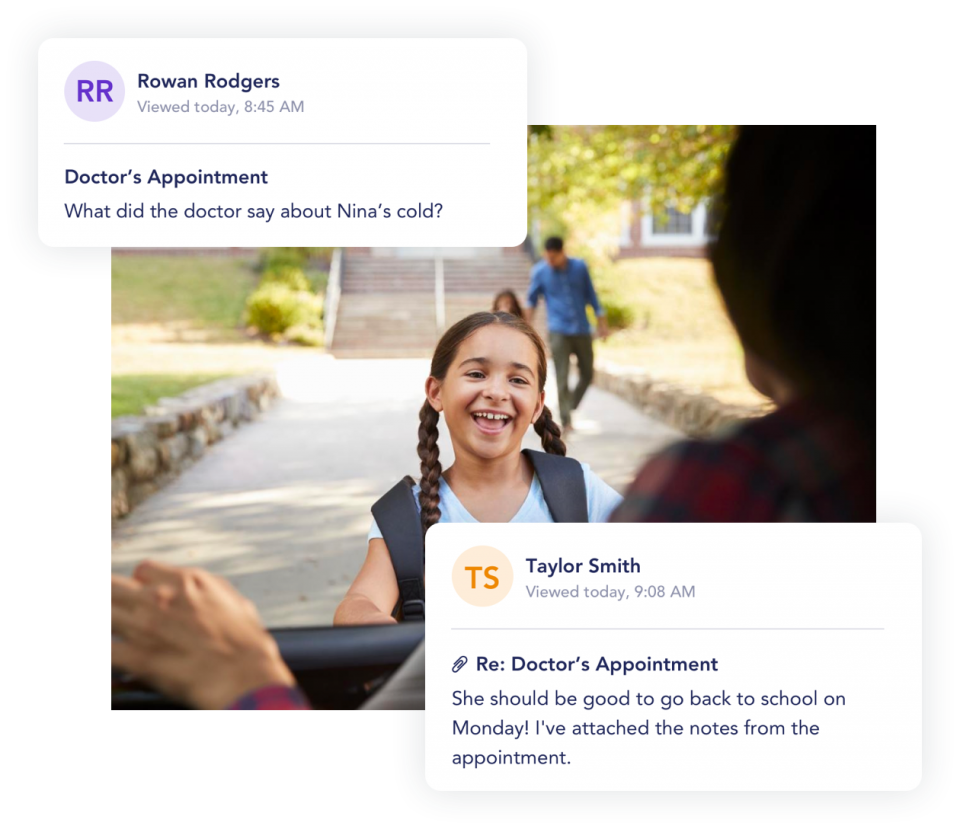 The record of communications should be permanent, tamper-proof, and private. Ideally, it should be separate from your other communications.  
 
OurFamilyWizard has tamper-proof security  
OurFamilyWizard is a closed system: you can only use it to communicate with people who are connected to you in the app. This keeps your most important family information safe.  
It also helps you build boundaries. You can communicate with your co-parent without sharing your personal email address or phone number.   
All your records are backed up by OurFamilyWizard's database, and you can always look back to get the truth: 
What happened? 
Who said what? 
When did it happen or when was it sent? 
When did your co-parent see it?
 
Email and texting have basic security—with weak spots  
With email and texting, you have to share your direct contact information. And major platforms might not back up your communications automatically. 
Some text message tools let you edit or delete messages—and that's becoming more common. If your co-parent tampers with past messages, then you won't have a clear history of what you and your co-parent have said. 
And what if someone forges or spoofs an email or text? A process called forensic investigation may be the only way to find out the truth—and demonstrate it in court. Forensic investigation is: 
Stressful. 
Expensive. 
Long (it can take several weeks). 

Which works best for you? 
Do you want a record of all your communications that is: 
Complete, 
Accurate, and 
Readily accessible?  
For peace of mind, OurFamilyWizard guarantees the integrity of your communication history—and protects your contact info. 
---

Protect your communication history.
---
#3: Can you download your messages easily?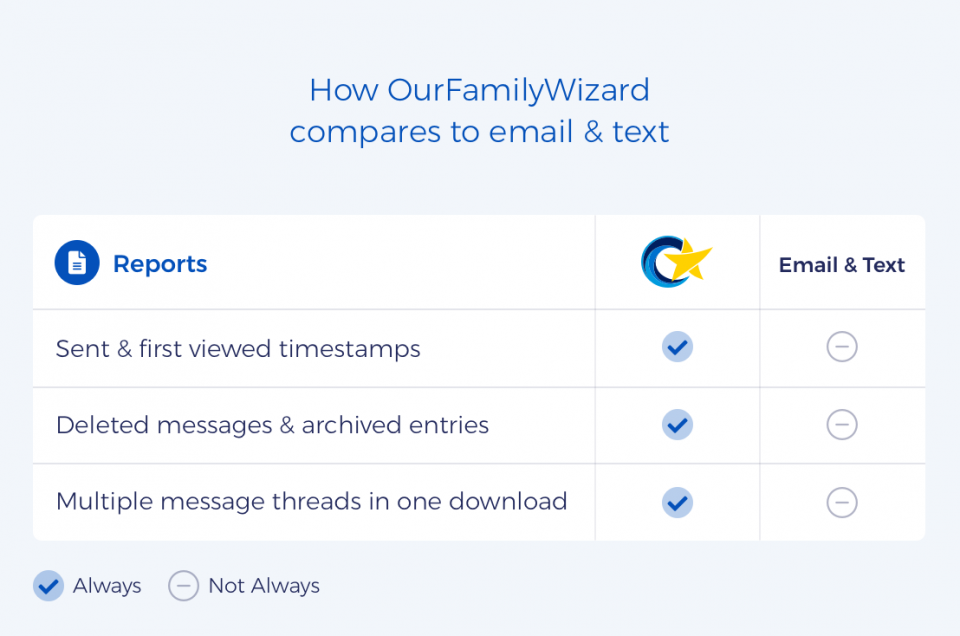 Co-parenting can be complicated, and sometimes you need a clear, official report of your communications.   
 
OurFamilyWizard has built-in, customizable reports  
Using OurFamilyWizard's website, you can download reports of your messages and activity in any app feature, anytime you need them.  Records include all relevant information, like: 
First-viewed histories for messages 
The date and time a reimbursement request was approved 
Who originally set up your current parenting schedule 
It's also easy to customize reports. For example, you can download single messages or run a keyword search to pull all your messages on a specific topic. These reports are often admissible in court.   
Email and texting can be tedious to download—and they might miss stuff  
Emails are typically easy to filter and download. With some standard email platforms, you can even download emails you've deleted—within a timeframe. On the other hand, it might be impossible to recover texts once they're deleted (unless you back them up). 
For both, you or your attorney has to put in the work to gather your messages: 
Search in your email account. 
Individually download email threads. 
Search in one endless texting conversation. 
Take screenshots. 
Organize messages. 
Print or combine into a PDF. 
Even then, your downloads or screenshots might not show first-viewed timestamps (if your app even captures that level of detail). 

Which works best for you? 
If you're ok with retrieving your messages manually, then email and text should work for you. But if you ever need to share copies of emails or texts with your attorney, or bring them to court, you might want something more robust. With OurFamilyWizard, sharing a record of communications is: 
Fast. 
Simple. 
Easily admissible. 
 
"The relief [OurFamilyWizard] gave me is immeasurable. It has cut court appearances in half and has stopped the wasting of my time and the Court's time." 
      OurFamilyWizard App Review
---
#4: Does the app help you handle co-parenting stress?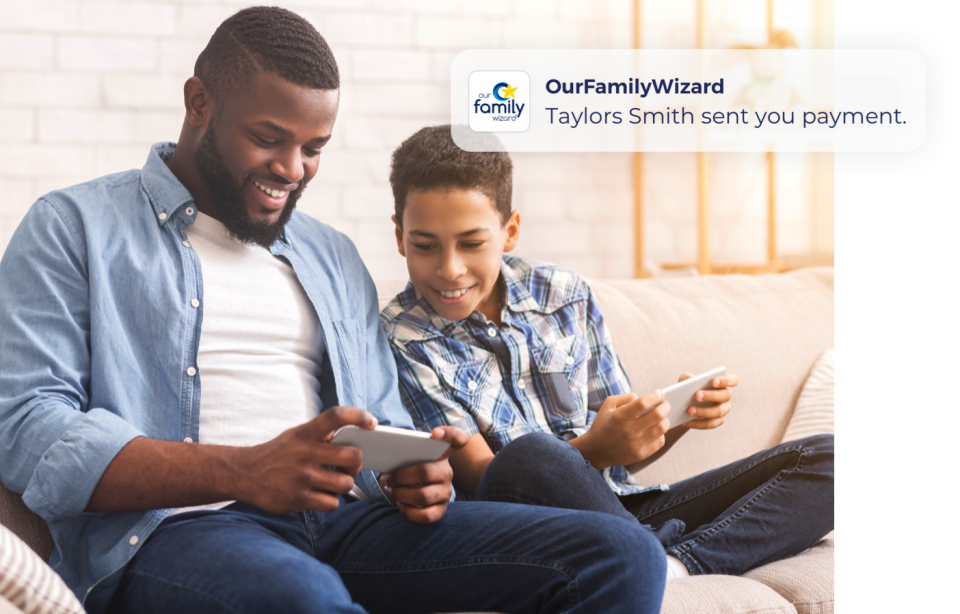 You need to communicate with your co-parent, but you also need to take care of yourself and your kids.  
 
OurFamilyWizard protects your mental health—and your kids'  
With OurFamilyWizard, you can do three things to improve your family's mental health. 
Compartmentalize your co-parenting communication to keep it separate from your daily life. If you're searching for an email about your car payment or texting a friend about going to a movie, you won't accidentally see a message from your co-parent. You'll only see those messages if you go on OurFamilyWizard.  
Limit your co-parenting notifications. If you're getting too many alerts—or if you feel anxious every time you see one from your co-parent—then you can select a daily digest and check your notifications when you're ready.  
Shield your children from adult conversations they don't need to see. The app is password protected, and it logs you out when you're done using it. Plus, notifications don't show message previews.
Email and texting don't account for sensitive situations 
One email or phone number is generally used for all sorts of communications: 
Work 
Friends 
Dating 
Shopping 
And more 
A mix-up could possibly send a message to the wrong person, so it's harder to maintain complete privacy.  
You can partially customize alerts to limit what they show and how often you get them, but you have to go into your settings to make the changes. (With OurFamilyWizard, these safeguards are built in.) 
 
Which works best for you? 
Email and texting don't have built-in safeguards designed for co-parenting situations. OurFamilyWizard, on the other hand, helps protect your mental health—and your child's.  
---
Minimize co-parenting stress. 
---
#5: Can you connect with your team? 
The app has four account types:  
Co-parent 
Third party 
Child 
Practitioner.  
Third-party accounts are perfect for grandparents, daycare providers, babysitters, or anyone else involved in childcare. Third-party and child accounts can: 
See the Calendar. 
Add to the Journal. 
View shared Journal entries. 
Send and receive messages.  
 Children and third parties can't see any other messages, just the ones they send and receive. They also can't see Expenses, the Info Bank, or Journal entries that aren't shared with them.

The Practitioner Account is designed for family law professionals: 
Attorneys 
Mediators 
Guardians ad litem 
Therapists 
Parenting coordinators.  
This account has a full view of all co-parenting communication (and any other activity for the parents they're connected to in the app). They can also download reports from any feature.  

Email and texting treat everyone the same 
You can text and email different people or different groups, but different account types are not a built-in feature.  
Emails and texts can be forwarded, printed, or screenshot, but if you want to give your lawyer or therapist more access, you'll have to give them your email password or let them borrow your phone.  
 
Which works best for you? 
Email and texting might work for you if you want to control the flow of information manually. But if you want to simplify, OurFamilyWizard lets you categorize all the important people in your co-parenting journey and then connect with them thoughtfully.  
"[OurFamilyWizard] has been a crucial part of our parenting structure. It has provided an easy medium for all communication, and includes all the features necessary to navigate a structured co-parenting experience. I highly recommend this system!!"
      OurFamilyWizard App Review
---
#6: Can you access tech support and education?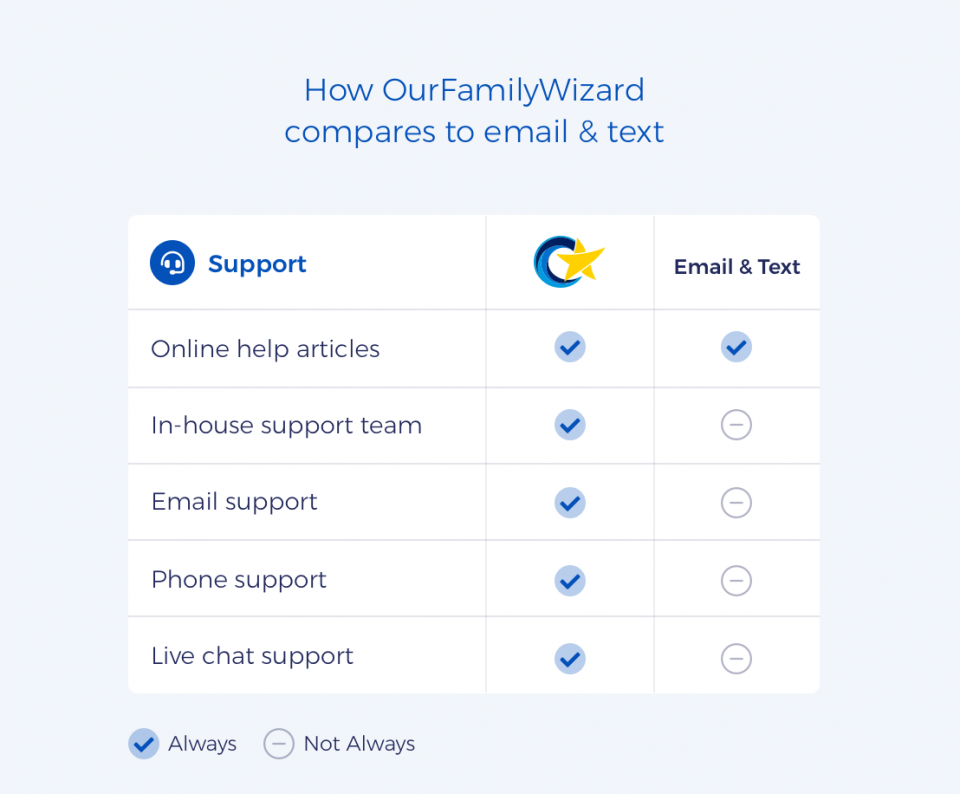 Using tech can be frustrating at times, no matter what app you use. When you run into trouble, is it easy to troubleshoot? 
 
OurFamilyWizard has live support 7 days a week 
We want you to get the most out of OurFamilyWizard, so we offer multiple forms of support: 
Live, in-house customer support 
No bots and no outsourcing 
Support via email, chat, and even phone 
Help articles with step-by-step instructions and images 
 
Email and texting providers rarely offer live, person-to-person support 
It's difficult or impossible to get live support from most major email providers and phone brands. You can find help articles and online community support, but usually not direct live help. 
 
Which works best for you? 
If easily accessible live support is less important to you, then email and texting should do the trick. If you want more, OurFamilyWizard offers quick, in-house tech support. 
---

Get personalized support for your co-parenting tech.
---
#7: What's the overall cost? 
There's more to consider than the up-front price. What about avoiding unanticipated costs? What about non-monetary costs, like the value of your time? 
 
OurFamilyWizard offers practical, emotional, and money-saving value 
With an annual subscription, you can: 
Access our entire suite of co-parenting tools. 
Grant your professionals access.  
Download unlimited records and reports. 
Downloading your communication records from OurFamilyWizard can save both emotional hassle and legal fees because you and your attorney don't need to gather individual messages from various places.  
Because messages are permanent and can't be altered, these reports also help prevent forensic investigation, which can be extremely costly.  
 
Email and texting miss tons of co-parenting features (you get what you pay for) 
Most email accounts are free. Texting requires a phone plan, but if you already have one, then texting is basically free too. However, all they do is send and receive messages.  
They don't help you organize your parenting time schedule or send payments for child-related expenses. Plus, finding and printing emails and texts takes more time—and if your attorney does it, the billed hours can pile up.  
 
Which works best for you? 
Email and texting are free at first, but if there's a misunderstanding or a legal issue, compiling your communication history can wind up being quite expensive. OurFamilyWizard saves you time, protects your emotions, and helps you avoid extra legal fees. 
---
The bottom line
Co-parenting can be difficult, but the right tools can make it easier.  
If your co-parenting situation is straightforward, you might get by with just emails and texts. They don't have as many advanced and specialized features, but they're workable communication tools.  
But if you want to simplify your co-parenting life, then OurFamilyWizard offers an all-in-one co-parenting solution that helps you reduce stress, limit conflict, and stay organized.