Access our full set of features through the OurFamilyWizard website
Running a ToneMeter™ report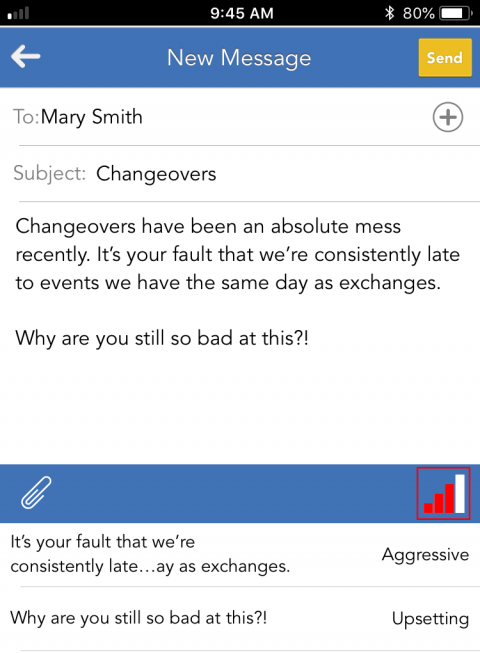 You can get immediate feedback from the ToneMeter™ tool when composing a message. To do so,
Tap the ToneMeter™ icon. It will be located in the blue bar above the keyboard and look like four signal-strength bars. If you do not see this icon, verify that you have ToneMeter™ enabled on your account. 
Any flagged statements will be listed below the icon after it is tapped. If no statements are flagged, a 'No Results' message will be displayed instead. 
If desired, update the flagged statements and re-run the ToneMeter™ analysis by tapping the icon again.
Note: ToneMeter™ does not prevent you from sending a message with flagged statements. Parents can still send messages despite any results returned by the ToneMeter™ tool. 
---
Verifying your ToneMeter™ add-on
If you're unsure whether or not you have ToneMeter™ on your account, you can verify by doing the following.
From the app menu, select My Account.
Tap Service Status.
Your ToneMeter™ status will be shown as either Active or Inactive. 
If you wish to add ToneMeter™ to your account, sign in through the website and follow these instructions.
---
Related articles