Parenting Plan Examples-A Plan That Fits Your Needs
Families with children are often overstressed and overworked. With work during the day, taking the kids to school, picking the kids up from school, taking the kids to all of their after-school activities, there is little time for anything else. After divorce, these tasks only seem to get even more stressful and time consuming. Having to coordinate with your co-parent can also tack on some additional stress into the process, especially if you're in a high conflict situation. A solid and workable parenting plan is definitely a necessary piece of a successful parenting life. You want an easy-to-navigate and straight-to-the-point plan that will put you on the road to success. Using the Our Family Wizard calendar tool, we will illustrate how effective a good parenting plan can be along with giving some workable parenting plan examples.
From the Our Family Wizard dashboard, clicking on the "Calendar" tab and selecting "Parenting Schedule" on the left-hand sidebar menu will allow you to make a new parenting schedule. Then, you will be able to click on "Create New Schedule" which will bring you to the parenting schedule editor page where you can input all of the details of your customized parenting schedule.

Parenting schedules can be made from one to eight week intervals, or create a 5th weekend schedule, depending on the consistency of your shared parenting custody and visitation plan. 
Enter a start and end date, a title for the new parenting schedule, and for which children the schedule applies to (if multiple children).
Next, you may begin to create the actual schedule by designating which parent will have the designated child for each specific day. An exchange time will appear on the day if the previous day is a different color (indicating a switch between the co-parents).
When finished, click the "Save" button that is above the calendar view. Your parenting schedule is now active and will appear on your calendar when the start date of your schedule is reached. Below are some parenting plan examples, which are presently being utilized by many co-parenting families, and have been proven to provide numerous benefits to the lives of the children and co-parents. Many court systems and divorce attorneys make personal suggestions and have preferences as to which types of parenting plans work best. Please consult with these sources for parenting plan examples before trying to design and implement your own plan.
The following parenting plan examples are actual examples from an Arizona guide for shared parenting.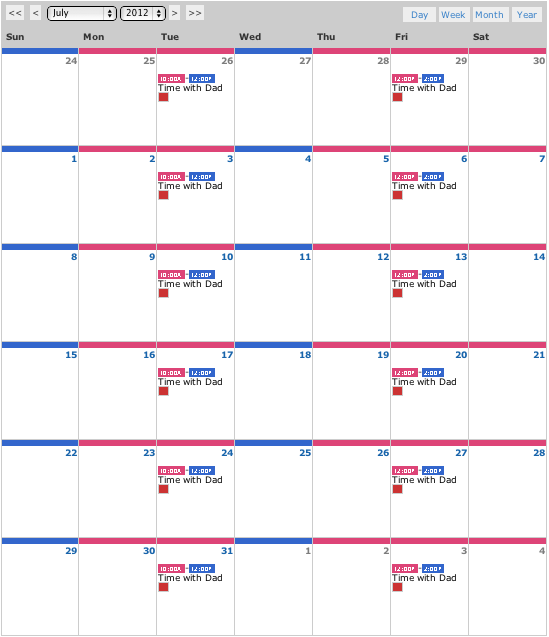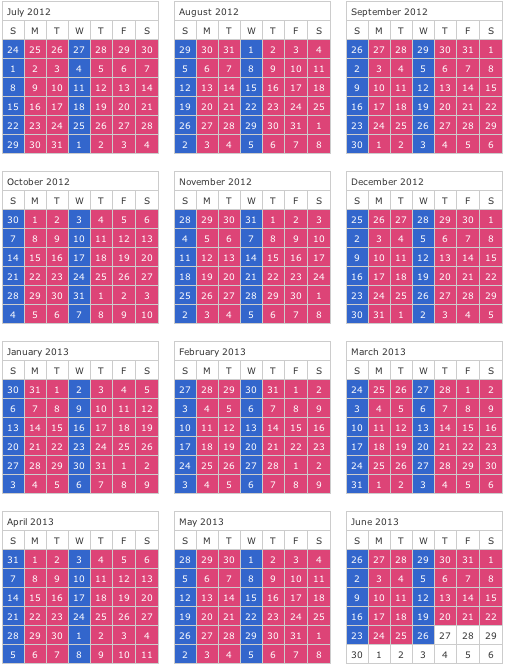 This parenting plan example shows one co-parent having an overnight with the child or children on Sunday night and Thursday night of every week along with day visits on Tuesday and Friday of every week.
In order to designate day visits using the Our Family Wizard calendar tool simply select the day of the visit and create a new event by selecting "Create Event" from the left-hand sidebar of the page. You will then be able to designate all of the details of the event, including the co-parent to drop off and pick up the child, the time of the event, if the event is reoccurring, and or which days it reoccurs.
Some of the advantages of this parenting plan example are that the child or children have frequent but short visits with the non-custodial parent, allowing the custodial parent to have frequent time apart from the child. A disadvantage of this parenting plan example are that there are frequent exchanges between the two co-parents, which can be time consuming and inconvenient.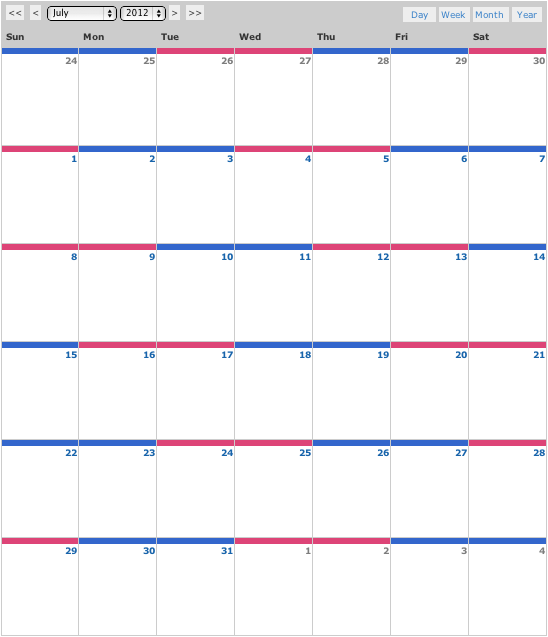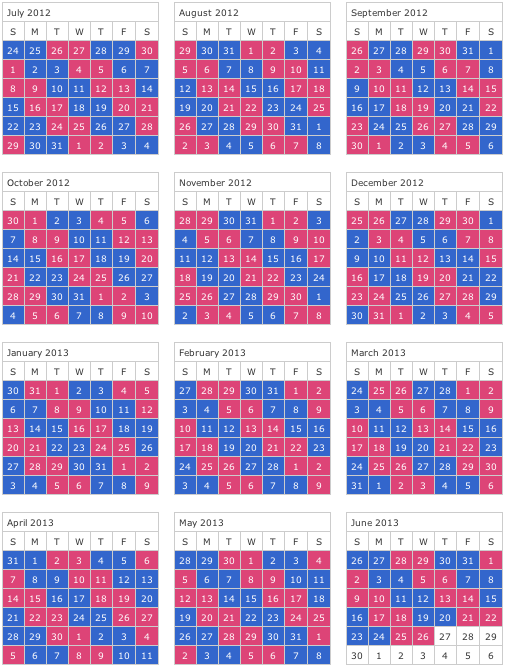 This parenting plan example is in intervals of four weeks. The child switches between co-parents every two days. There are no day visits; there are only overnight visits. This parenting plan example is much more inconsistent than the previous.

Some of the advantages of this parenting plan example are that the child or children never go more than two days without seeing a parent, and that many parents prefer longer periods of time with and without the child or children. Some of the disadvantages of this example are that it is very inconsistent, which often creates difficulties when making plans, some children prefer to see each parent more often, and that neither parent has a full weekend with or without the child or children.

Using the Our Family Wizard parenting schedule function allows you to create all of these parenting plan examples. Please consult an attorney in your state first for additional advice on a personal parenting plan and for additional parenting plan examples.