Visitation Expeditor
Being a visitation expeditor or parenting time expeditor requires access to accurate information about a family's communication. OurFamilyWizard offers tools for parents and legal professionals that can clarify communication and bolster cooperation.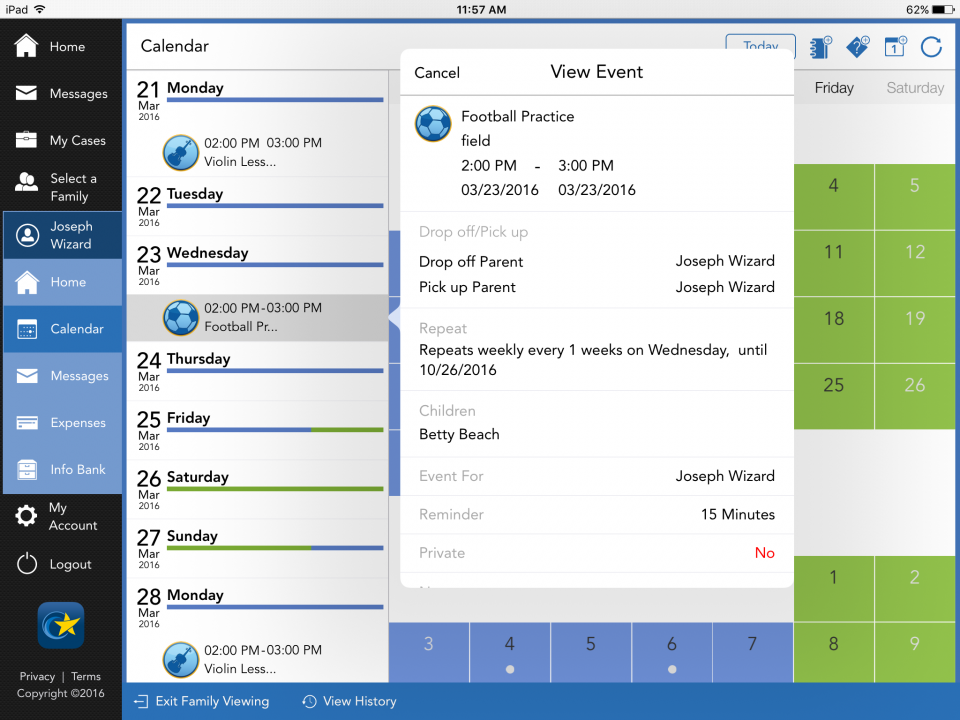 Your role as a visitation expeditor or parenting time expeditor is to interpret the court's orders in regards to visitation and custody issues after the divorce decree has been issued.  When issues arise, you may be called upon to help mediate a decision or even enforce your decision. Acting as a visitation expeditor requires a good deal of coordination and organization, and having the right tools at your disposal is crucial. OurFamilyWizard® offers a wide array of tools for just this purpose. From scheduling and communication to expense tracking and reimbursements, the OurFamilyWizard® toolset can support you in your efforts to keep things running smoothly for the families you work with.
With this great responsibility comes a need for accurate information.  Parents even with the best of intentions don't always have the best memories.  Issues of who said what at which time can quickly become overblown if the right information is not available. Without clear documentation, it can be difficult to resolve many of the issues that parents face.  Using OurFamilyWizard® can increase your perspective on the family without having to become over-involved.  Through the use of these tools, you can see what actually happened, not what they thought happened.
The broad range of tools for documentation available on OurFamilyWizard® makes it easy to keep track of conversations between parents, as well as allowing parents to make notes and comments on the various aspects of life after the divorce. Having a central location for these records makes it easy to access them when you need to do so. OurFamilyWizard® has been ordered for use in contested custody cases in all 50 states in the U.S., Washington D.C., and 7 Canadian provinces.  It has been a proven tool to get families moving forward and keep them on the same page. Being able to offer families a better degree of assistance as a visitation expediter can be fast and easy when you take advantage of the many features and tools available on OurFamilyWizard®.
NOTE: Many state and federal laws use terms like 'custody' when referring to arrangements regarding parenting time and decision-making for a child. While this has been the case for many years, these are not the only terms currently used to refer to these topics.
Today, many family law practitioners and even laws within certain states use terms such as 'parenting arrangements' or 'parenting responsibility,' among others, when referring to matters surrounding legal and physical child custody. You will find these terms as well as custody used on the OurFamilyWizard website.