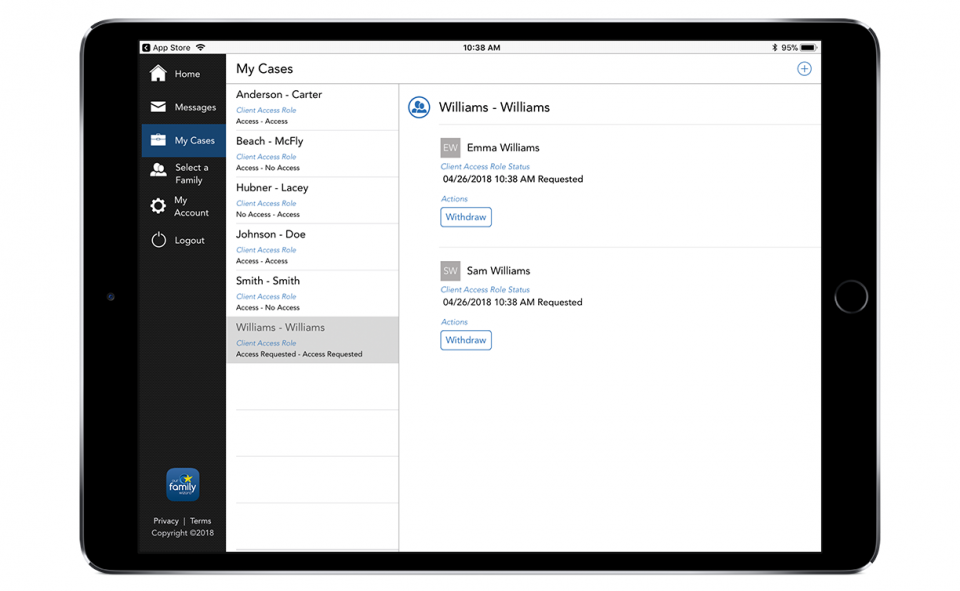 OFW iOS App for Family Lawyers
More than just a web platform, the OFW iOS app for family lawyers lets practitioners access to important client information from anywhere.
Your clients may have been ordered to use OurFamilyWizard for communication, or you may have recommended it to them. No matter the case, using OurFamilyWizard alongside your clients creates a convenient way for you to stay connected with every case. 
One account to access all of your cases
An OFW Professional Account is all family lawyers need to connect to all of their clients using OurFamilyWizard for communication. Using the OFW iOS app for family lawyers, you can:
Create accounts for new clients
Connect to clients already using OFW
Oversee direct communication between clients, or your client and their co-parent
Send and receive messages with every client you're connected to
The right amount of access for every case
As a family lawyer, each case you work will require distinct levels of interaction from you. You may be working very closely with one client in one case, while in another, you only need to be in touch every so often. In other cases, you might have some involvement with the opposing party, such as may be the case for family law attorneys involved in collaborative practice.
The OFW iOS app for family lawyers provides family law attorneys with the right level of access for every case. Attorneys may request access to just one client or both parents in a family, and depending on that level of access, attorneys may interact with families in different ways via the iOS app for family lawyers.
Access to one parent allows family law attorneys to oversee all communication via the viewpoint of their client, send and receive messages with that client.
Access to both parents allows family law attorneys to set up entries for parents such as parenting schedules, expense categories, and more. You can also oversee communication from the viewpoint of either parent, and send and receive messages with both parents.
For family lawyers, access to accurate client data is key to providing services that lead to positive outcomes. The OFW iOS app for family law attorneys gives lawyers with access to important client data from anywhere.